Don't Get Greasy with an Overflown Grease Trap, Call Us Today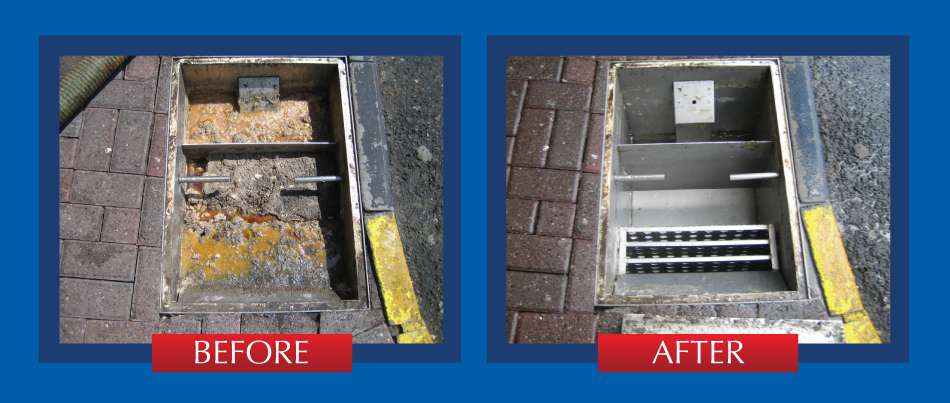 Your grease trap catches fats and oils in your wastewater and has to be maintained and emptied regularly in order to avoid overflow and sewer damage. Every day your businesses' grease trap skims the dense grease out of your regular wastewater and keeps it from clogging your sewer pipes. However, these grease traps can overflow and malfunction, causing a huge mess or your business.
The biggest mistake you can make is not having a grease trap at all in any business that deals with a lot of food waste. Grease easily solidifies at room temperature and causes backup and overflow in your pipes. It adheres to your pipes and catches other debris that goes through your drains. This can damage not only your sewer system, but those of other businesses in your area. If grease stops up your sewers, you can be sure to have a lot of problems.
Make sure you grease trap is functioning well, and schedule regular cleanings for it. Put it on your calendar and don't forget. If you have an overflown grease trap, you can definitely call a local plumber to help. This is the best way to make sure that everything is functioning properly, and is effectively cleaned.
If you call a local plumber in Denver like Sewer Solutions who specializes in grease trap cleaning, you will be sure that you've got quality drain cleaning and grease eradication. Not every plumber can fix every problem. If you do your research, you will find the right plumber for your problem.
Wastewater and sewage drains are a huge part of a healthy functioning business. If they aren't working, then all business tends to halt. You don't want to be held back by your drains. There is a lot of preventative and repair work that local plumbers can do for you. When Sewer Solutions cleans out your drains and grease traps, a video inspection is included in your cleaning.
This helps ensure that your drains are cleaned properly and allows your plumbing technician to identify any other problems that may be occurring in your pipe system. If there are breaks, cracks, or corrosion you may have bigger problems.
Work with your plumber and your local waste management system to find the best method for disposing of or recycling your grease. Not all grease is the same, and it has to be disposed of properly to keep it out of sewage systems for good. Taking the steps to prevent blocks now will save you a lot of headaches later.
You never want to be surprised by a plumbing problem, and modern technology provides for a lot of plumbing techniques that can help improve your business. Take advantage of regular cleanings and inspections in order to prevent major blocks or breaks and keep ahead of more expensive problems.
If you are managing a business' budget, and you want to avoid unplanned expenses, you'll start a relationship with your local plumber. They can make sure that you are making the best decisions for your system.



For an inspection or to ask any questions at all about trenchless repair, contact a service professional at Sewer Solutions today.
We are open from 8am — 5pm on week days.