Drop a Camera — Not Thousands of Dollars — Into Your Home's Sewer System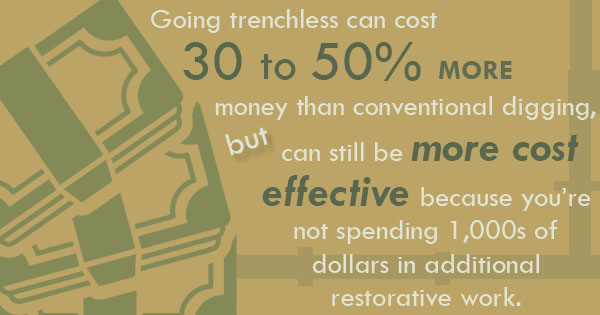 Let's talk about your home's sewer for a moment. Sewer systems are pretty complex creations. Basically, think of every area in your home where water either comes in or is taken away. Each sink, toilet, bath, washing machine, and similar device are all points of entry or escape for water. Behind your walls and extending deep into the ground and off your property are a skeletal structure of pipes and other connectors which make the movement of water an innocuous, non-intrusive process for you and your family.
Yet, these systems do age. They malfunction, get old, or become otherwise defunct for a number of reasons. Consequently, homeowners are flocking to newer, more efficient technologies that are less burdensome to the structure of a home.
One such up and coming technology is known as "trenchless" technology. The name implies the function; these systems do not require the digging of trenches on your property to install, maintain, or repair your sewer. Going trenchless can cost 30 to 50% more money than conventional digging, but it's still more cost-effective because a homeowner doesn't have to spend thousands of dollars renovating or restoring their property. In other words, trenched systems are effective, but require more work later on down the line.
Even with these breakthroughs in trenchless pipe lining and trenchless sewer replacement, homeowners are finding even more creative alternatives to having their lawns dug up. A little thorough research now can save tons of money later on down the road, so it's imperative that you understand what is available to you in today's marketplace. One such popular alternative folks are saving big on is sewer video inspection.
"Wait a minute!" you're thinking, "Is that where they send a camera down into my home's sewer instead of spending thousands on digging up the entire lawn?" — You're completely correct. The industry has evolved in recent times to include the widespread usage of cameras for inspecting and studying a home's sewer system. It seems such a simple remedy for such an expensive problem, but there you have it. Sewer video inspections have revolutionized the game, simple as they may be.



For an inspection or to ask any questions at all about trenchless repair, contact a service professional at Sewer Solutions today.
We are open from 8am — 5pm on week days.